Technology is integrated into our daily lives in ways that would have seemed impossible 50, 30, or even 10 years ago. Yet, in so many industries, professionals don't harness the advantages of that technology to solve problems effectively.
Not so for HighTek Home Inspections – we apply the full power of modern technology to the home inspection process like you've never seen before.
Our Technology
Purchasing a home is a significant investment in the future for you and your family. You don't want to leave anything to chance, or else you risk discovering a major problem down the line and regretting your decision. HighTek Home Inspections harnesses the most current, top-of-the-line technology to make sure that doesn't happen.
Chris Meinhardt founded HighTek Home Inspections with the goal of applying his analytical skills and technological understanding to home inspections so prospective homebuyers could make the most informed decision possible.
After all, a home inspection is more than just a box that needs to be checked. Inspections have the potential to tell you critical information about any home you're considering buying. HighTek Home Inspections uses state-of-the-art technology to give customers all the information they could need about a home, so they're not left with nagging doubts or concerns.
Issues Identified And Resolved
If a problem is discovered during the thorough inspection, that doesn't have to be the end of the line. Not only does HighTek Home Inspections identify these potential problems, but they also educate customers and provide comprehensive reports. That means customers will still have options for how to proceed in the event of an issue.
Mold, radon, wood-destroying insects, and other problems that HighTek Home Inspections could discover during a state-of-the-art home inspection can all be fixed one way or another. The technician performing the inspection can offer some advice and an honest evaluation of the depth and scope of the issue.
Complete Transparency
HighTek Home Inspections even takes transparency and openness to the next level by lifting the curtain on what's going on behind the scenes and making everything available to our customers. If you want more information on the detection equipment used, the certifications employees have received, or anything else about the inspection process, the information is readily available. How many other companies can say the same?
Committed To Our Customers
Everything about HighTek Home Inspections is unique, from the advanced technological techniques to the unmatched commitment to customer service. Customers trust HighTek Home Inspections with one of the most important decisions of their lives and Chris and the team work relentlessly to always deliver results for them.
This is a small business, founded and run by a United States Veteran at the top of his field. You're not going to find an inspection business in the Greater Cincinnati and Dayton areas more committed to excellence and continued improvement than HighTek Home Inspections.
If you're considering a home purchase in Southwestern Ohio and want to go into it with the utmost confidence, HighTek Home Inspections is the right choice. Reach out today to schedule an appointment or request a free quote! For more tips and our latest updates, follow us on Facebook, Twitter, LinkedIn, Pinterest or Instagram.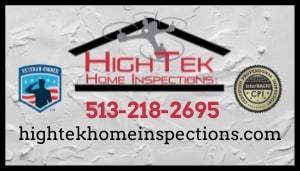 Share This Story!
Follow Us On Social Media
---